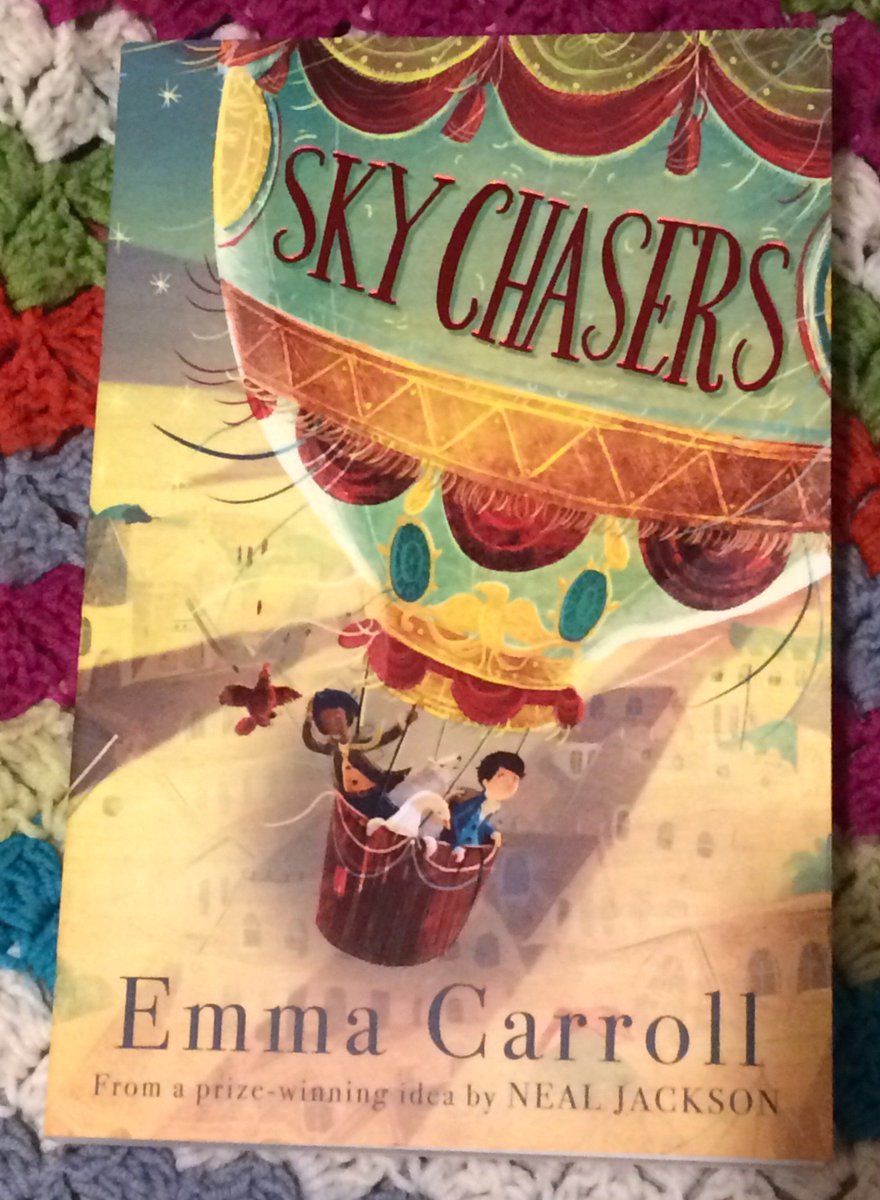 Extract:
Though my arms ache more than ever, I'm getting used to that bobbing, weightless feeling. I can't believe I'm flying. Time and again, I've looked up at the sky and wished myself there. Or envied pigeons pecking in the gutter for being able, with a flap of their wings, to escape the filthy street. And now it's happening to me. I feel lighter. Like my body doesn't matter. For once I'm not cold or hungry. I'm brave and strong and alive.
(Sky Chasers by Emma Carroll. From An idea by Neal Jackson. PP 29 -30.)
Synopsis:
Magpie doesn't know who named her. She's never had a family. Now it is her and Coco the cockerel. They exist by stealing what they need. This is what brings Magpie to Madam Delacroix's attention. She wants a box stolen from a house, and offers five gold coins in return.
The robbery is interrupted by a boy and his duck, and later Magpie saves the same boy when he is taken up into the air by a kite. The boy's name is Pierre and his father Joseph is trying to discover the secrets of flight. The family takes Magpie in. She and Pierre inform the King that the flight will be ready in time to beat the English. Spurred on by this lie, they must help Master Joseph take to the skies, but there are people who would take their secrets.
Review:
Emma Carroll is my undisputed Queen of historical fiction, and Sky Chasers is as beautiful as any of her other books. It is extra-special that it began with an idea by Neal Jackson, winner of The Big Idea competition. The Montgolfier brothers – Joseph and Etienne – really were the first people to design a hot air balloon, and it really did take flight in Paris during the reign of Louis XVI and his wife Marie Antoinette. It is lovely that this information is included in the back of the book, to help young readers place the story in time and think about what they might research.
The story is structured around the Magpie rhyme, ('One for Sorrow' etc.) This works beautifully, because when you cotton on you realise the story will end with a secret never to be told. I managed not to look ahead, but it was a close call.
One of the main themes is the extent to which women have been credited for their work throughout history. This is a big conversation: we are all aware of certain names, like Rosalind Franklin, who were under-or-uncredited at the time of their work, but this novel points out that there are many more women whose contribution to our knowledge has never been recorded. Names which have been forgotten because of gender prejudice. Magpie herself is concerned about this. I love her character – she is uneducated but observant. Her observations contribute hugely to the men's work, but she is considered a nobody. Poor. Female. Black.  This shows how quickly we judge other people based on preconceptions.
I enjoyed the race to get the balloon in the air, and the journey from rural France into Paris. Emma Carroll's novels are full of detail. I always feel I am emmersed in the era, and this was no exception. I also liked the animal characters, especially as Marie Antoinette is known to have walked around Versailles with sheep at her tail.
It was also lovely to live the excitement of early flight. It is hard to imagine, in the age of budget airlines, how exciting early flight was. Fiction allows us to empathise with people long gone, and to gain some sense of what it meant. The detail which made it most real to me was the King's willingness to risk the lives of poorer people for the sake of progress. The same has been true in other situations (ship builders, for example, used to expect a number of fatalities, and factor this 'rate' into the cost of the ship).
Another beautiful novel from Emma Carroll, and if that wasn't enough The Lost Boy is due in 2018 about the excavation of the Pyramids. Savour Sky Chasers, then look forward to The Lost Boy. Perfect.
A big thank you to Jazz Bartlett at Chicken House for sending a copy of the book. This does not affect the honesty of my review.